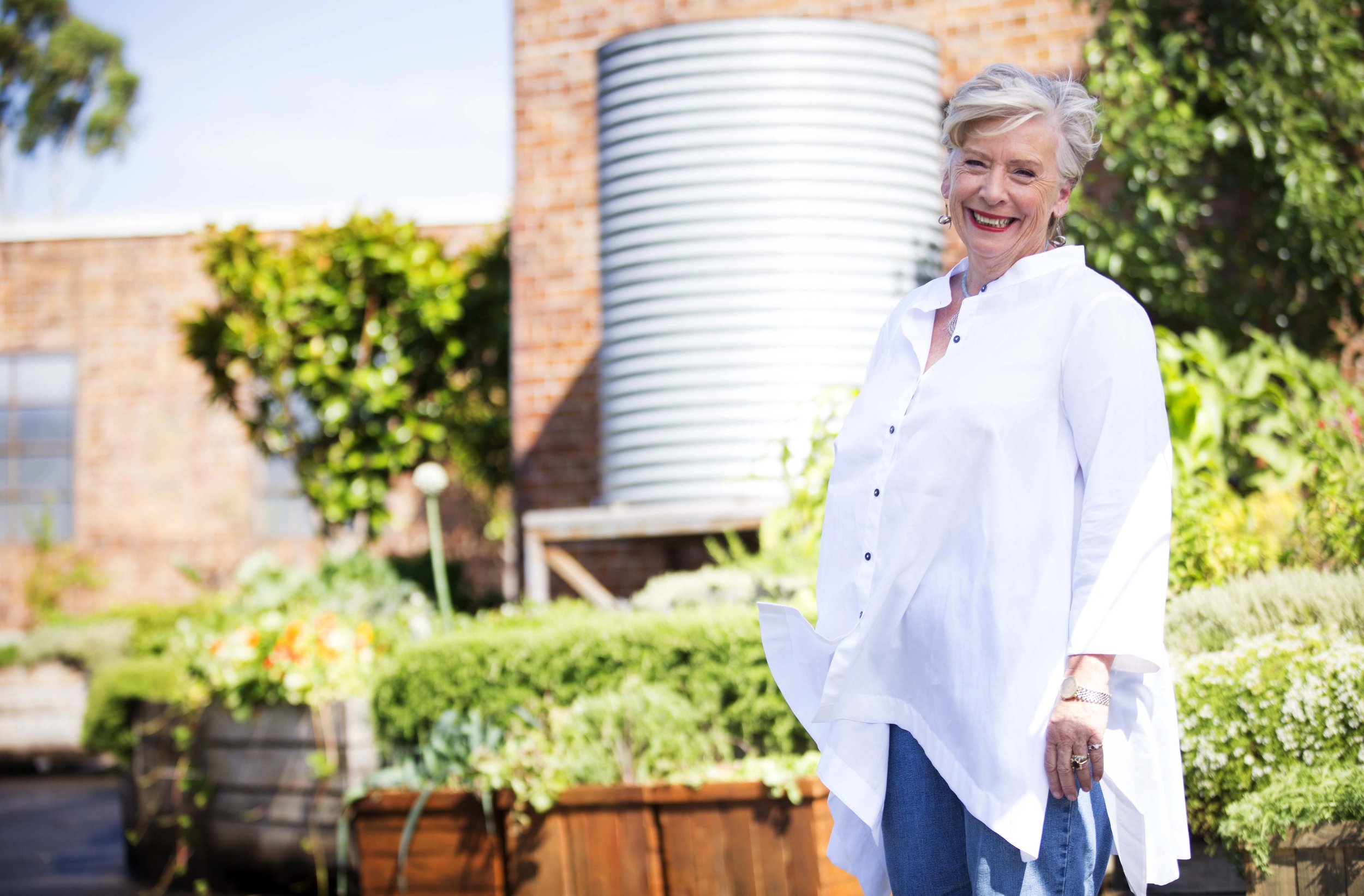 Our family moved to Tanunda in April 1973, just in time for our first Vintage Festival, and within months we had bought the land the Farmshop stands on today.
just a few months later, in January 1979, the Farmshop was born, from which we sold our pheasants (along with quail and guinea fowl) prepared and cooked in different ways. As I'd never formally learnt to cook, I simply used my instincts and cooked from the heart, always adhering to the Barossa ethos of wasting nothing.

before the end of the that year we had turned this humble Farmshop into a restaurant. Our basic premise was to cook simple dishes using the bounty of our seasonal harvest from the Barossa, focussing on flavour, not fashion. It was a constant learning process, but it was also immensely rewarding -there is nothing quite as seductive as doing what you love, and having others loving it too.
running a restaurant of this nature was pretty demanding, and as we lived right there on the farm in the rooms adjoining the restaurant, it seemed our work was never done. My weekly escape was to go horse-riding with fiends through the countryside, always taking a different path. On one of these rides I discovered a beautiful cottage, only a few kilometres away from the farm, and I fell in love with it immediately. It was surely meant to be, as a few years later we bought the place at auction. It was, and remains, the perfect family home. A beautiful pear tree, large as an oak and as tall as the cottage itself (and probably of similar age) still stands by the original well, planted to make the well water sweet, as tradition would have it.
it was here that my orchard began. My dream of having our own orchard was inspired by a perfectly ripe white peach I had picked straight off a tree near our farm when we first arrived in the Barossa. I also chose fruit that was difficult to find in shops; crab apples, medlars, greengage plums, persimmons and pomegranates. I even took cuttings from friends' trees, not knowing the variety but just loving the taste of the fruit. These trees, and many others planted since, continue to provide a veritable bounty of fruit each season, and keep us busy pickling and preserving all year round.
in 1991, the Pheasant Farm Restaurant won the Remy Martin Cognac / Australian Gourmet Traveller Restaurant of the Year Award, and this was the turning point. Up until then we had been just a simple country restaurant with a particularly loyal and interested clientele who kept us full almost every weekend.
we closed the restaurant in November 1993. It was a tough decision to make, however, one door had to close for others to open, and open they did. I could never have contemplated just how full and exciting life would continue to be.
we started selling pate commercially in the early 1980s, and by the time the restaurant closed, Pheasant Farm Pate was doing well enough to support us, even though we were really only supplying those who had heard about the product through word-of-mouth. The pate business expanded rapidly, and in 1996 we opened a purpose-built, state-of-the-art export kitchen. Much to everyone's amusement, I absolutely insist on calling ait a kitchen, not a factory, as even though we now make pate by the tonne, we still produce it in small batches, with no preservatives added. Whilst this has proved immensely challenging, flavour is something I just won't compromise on.
our business provides enormous scope to create limited amounts of products based on the best seasonal produce available, whether it's a ute full of peaches or a trailer load of blood oranges, free from the commercial imperative that a larger-scale operation wold bring. Each of our products stems from a desire to make the most of every bit of our own harvest, in its way honouring the bird, tree or vine by wasting nothing.
when I think of how we made our first batch of verjuice in 1984 from grapes we couldn't sell that year and how, albeit gradually, we led the worldwide renaissance of this amazing ingredient and made it indispensable in so many kitchens, I have to pinch myself. We'd been vignerons since 1973, so at each vintage I'd have plenty of opportunity to experiment with using grapes in many different ways (no matter how much they were wanted for wine!). This continual experimentation, along with my voracious reading on Mediterranean culinary traditions, also lead to the creation of vino cotto, Desert Pearls non-alcoholic sparkling drink, and cabernet sauces and pastes.
so now we've come full circle. Today the Farmshop, the precursor to the much-loved restaurant, is up and running again on the same site, tucked away down a quiet country road. It's where everything began and, humble though it is, I never tire of the surprise and delight I see on people's faces as they come in. Even though we now sell our products all over the world, the Farmshop remains our direct link to the public.
every day, when I walk in the door, it's like coming home, and I know I'll never lose that feeling.