Maggie's Orchard house, where land & home
provides all the ingredients to nourish the soul.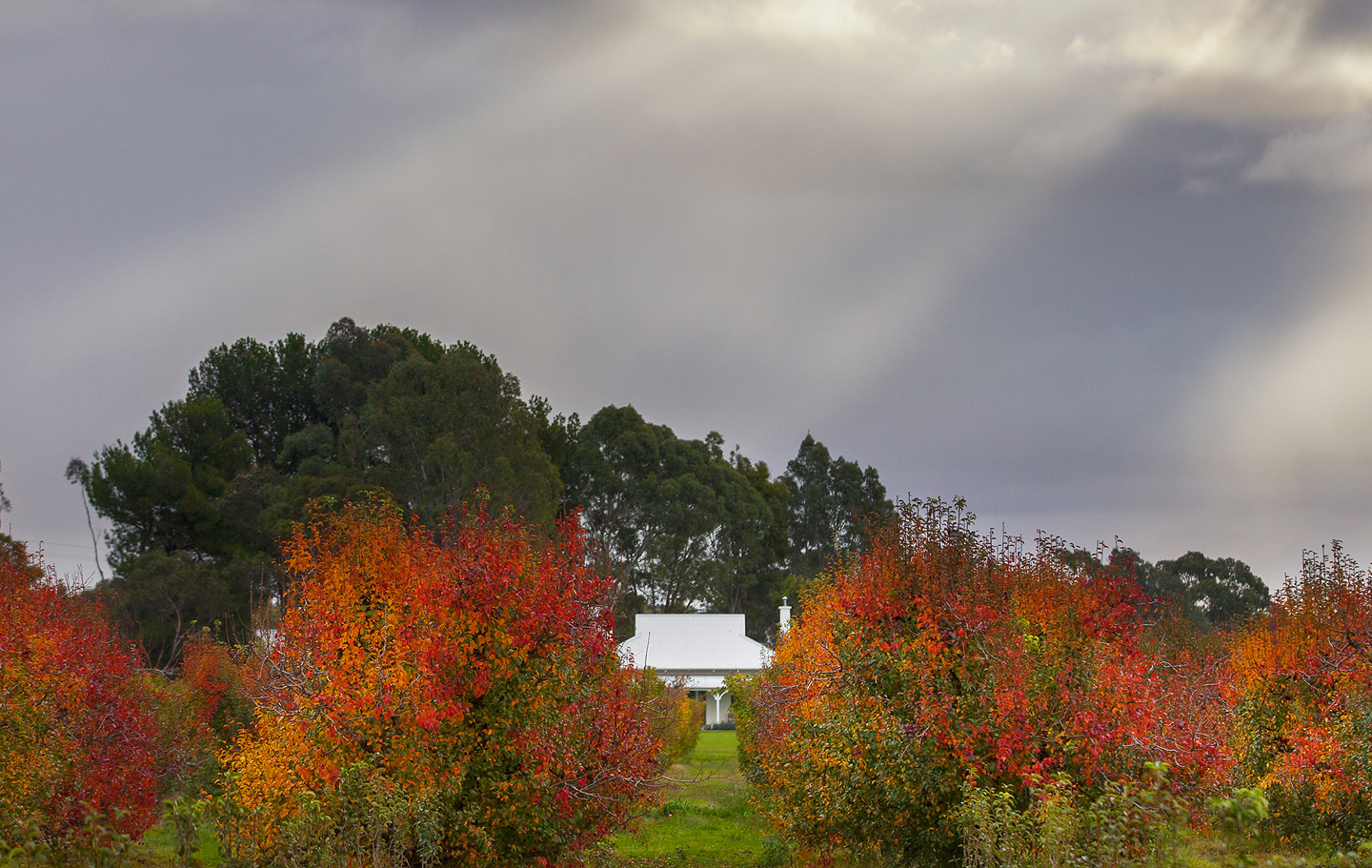 An original farmhouse,
a welcome escape.
The Orchard is very dear to me, holding equal measures of sentimental value and the chance to preserve an all but lost tradition of fruit growing, beyond grapes, in the Valley. Part of the sentiment was that the orchard house is identical, and next to, our first home in the Barossa where our children were born and as youngsters they played in the trees between the two properties.
By rebuilding the original farm house, as well as keeping one of the few orchards of the Barossa alive and viable, we're able to continue another tradition so important to me; old fashioned country hospitality, such a welcome escape from the business of day to day life.
There is something completely tangible but difficult to capture in words about being surrounded by the rhythm of the seasons, drawing inspiration for cooking by the food you can see outside your window, and the feeling of being nurtured that slowing life down brings – every reason for us to create Orchard House for you to enjoy.
Orchard House is exclusively yours, whether you're one guest or four. Minimum stay is two nights. The Orchard House caters for four adults - being a working Orchard is not recommended for toddlers or children.
First Couple - $515.00 per night
Additional Guests - $100.00 per person, per night
The tariff shown is valid until April 2020 - we'll calculate your rates based on the dates you select.
The Orchard
Established over a century ago, the orchard is made up of a collection of 2000 trees including heirloom apples, pears, apricots, peaches and nectarines, all bursting with the kind of flavour many of us might remember from our childhood; real flavour.
That's not the only time-honoured tradition Maggie's Orchard has to offer; there's also a welcome sense of country hospitality, with her beautiful "Orchard House" now available for a get away set amongst the trees of this working orchard.
We've picked a few of Maggie's favourites to introduce, but there are plenty of other treats for the intreprid orchard explorer to discover.
The Orchard House offers 2 bedrooms, each with its own bathroom, and comfortably sleeps up to 4 adults. With a beautifully light and spacious kitchen, fully equipped with Maggie's choice of Miele appliances, the house goes beyond the expected bed and breakfast option for foodies wanting to cook up a storm of local produce during their stay.
Guests can feel free to cook outside in the purpose built barbecue area over looking the orchard and wander through the fruit trees to pick fresh ripe apricots, peaches, nectarines or apples when the season allows. The very best 'takeaway' is also in keeping with any foodies ideals, available from Maggie's Farm Shop picnic fare menu; imagine local coffee and tea, Maggie's pates, terrines, cakes and ice creams only a stroll away through the pear trees. That's old fashioned country hospitality!
Breakfast provisions are locally sourced to start your day with a taste of the Barossa. You will find complimentary free range eggs, local bacon, sourdough bread, muesli, Maggie's own preserves, locally roasted coffee beans, tea, local jersey milk and butter, and of course fresh fruit from the orchard.
Help yourself to fresh herbs in the garden tanks or produce provided on the kitchen table/bench.
The Orchard House is not just about somewhere perfectly comfortable to rest your head. Set in the very heart of the Barossa, its location offers a great base to all of Maggie's regular local pitstops; the Barossa Farmer's Market, artisan cellar doors, Kaiser Stuhl National Park, the local art gallery and craft markets.
As Orchard House is set in a very private, rural location, you will need a car during your stay. And although Orchard House is self-contained, self-catering accommodation, it is still very much a part of a working orchard, so, depending on the time of year, you might spy us working in the surrounding area. Fruit trees wait for no one, so please don't be alarmed if you hear the shout of 'bring the tractor up this row!', or something similar, we're just following the flow of good farming and tending to things as the season dictates - no matter which day of that week that might be!
Please complete the form below for enquiries
Orchard House, Barossa Valley
We'd love to hear from you with any questions or comments you have.
Phone (business hours): 08 8562 4477 (Option 1)